Choosing the right size for your pet's clothing is very important. Not only do you want them to look their fashionable best, but most importantly, you want them to feel comfortable. If your pet is not used to wearing clothing, comfort is crucial so your fur baby will learn to enjoy dressing up. Please take the following safety precautions while your pet is wearing clothes.
In summer or warm climates, your dog could become overheated. Make sure clothing is not tight, and fabric is breathable and cool. Only leave clothes on for short periods. Do not allow your dog to wear clothes when they're unsupervised for long periods. Halter garments are only intended for small pets that do not pull or lunge on a leash. Never use a halter unless your pet is well trained on a leash.
With a few precautions, you and your pet will love dressing up!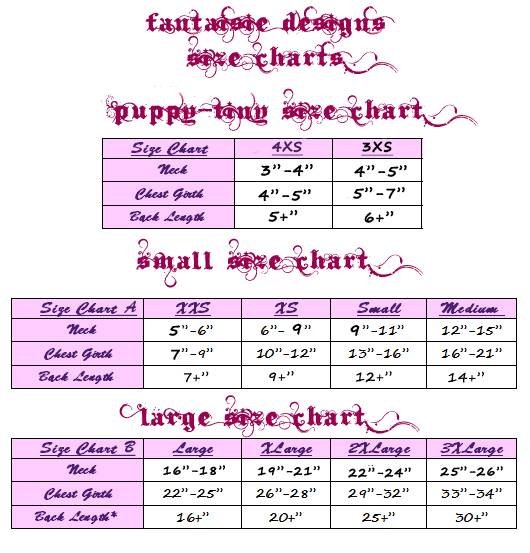 Patterns are available in single sizes or, if you have multi-pets of various sizes, the Pro Packages will be a good choice. Originally our Pro Package was sizes XXS through Medium. When you purchase the Pro Package you get one of each of those sizes.
As the larger sizes are released, there will be 2 Pro Packages: Pro Package A: Sizes XXS thru Medium; and Pro Package B: Large thru 3XL, when available, available.. Eventually all old and new patterns will be available in all sizes.
As requested, Puppy/Tiny 1-2 lb pet pattern sizes are being released as patterns are revised and new patterns created. Puppy Pak is the 3rd Pro Package to be released which includes 3XS and 4XS sizes. These small sizes create a challenge to be created as the tiny sizes require more patience to work with the itty bitty pieces, turning, etc. However, many of these can be made from all those remnants we all hoard, including scraps of interfacings.